Industry: Computer & Network Security
Zopto is a comprehensive and full automation tool for LinkedIn. We used it to scale up our sales development operations from 0 to 100 in just two weeks. Zopto empowered us to build and scale our sales development operations in a short period of time and with a very small team. The number of campaigns you can run is unlimited so it allowed extensive A/B testing for different messaging and strategies. The customer support is also great. There's nothing we didn't like!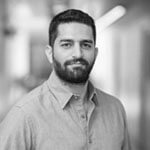 Michael Assraf
CEO & Co-Founder
Customer story
Vicarius specialises in providing patchless vulnerability management to help its clients to protect themselves against threats to endpoints, databases, cloud servers and other infrastructure. Consisting of a team of engineers, designers and security experts who are passionate about cybersecurity, they dedicate themselves to securing digital infrastructure for clients who rely on digital assets.
With head offices in New York, Jerusalem and Tel Aviv, the company caters to SMEs from around the world and enables them to more easily safeguard their digital assets so they can focus on doing what they do best.
The challenges Vicarius are facing
For Vicarius, the biggest challenge was to find a way to efficiently and quickly scale sales and business development efforts despite having a relatively small team. They were also searching for a powerful self-service tool with a short learning curve that would allow them to take their destinies into their own hands and to scale spending up and down as needed.
Vicarius also faced the challenge of serving three primary markets, each of which required its own specific messaging and approach. Any solution that they found would need to be able to support simultaneous campaigns in the three different markets.
Why Zopto?
Zopto had everything that Vicarius was looking for in a LinkedIn advertising tool, with the added benefit that it fell within budget and supported multiple logins for different users. After viewing reviews and product demos, Vicarius soon realised that Zopto was a good fit, and the easy onboarding meant that they didn't have to spend lengthy amounts of time manually importing data or recreating existing campaigns.
As a growing business, Vicarius was also interested in Zopto's scalability. It offered a powerful ongoing lead generation source that they could pause at will, adjusting their budget as needed to ensure that they were never facing too few or too many leads at any one time.
Vicarius's growth and how Zopto plays a role
Zopto plays a key role in Vicarius's growth by enabling them to reach out to key markets and to attract potential customers who stand to benefit the most from the company's services. With a tightly defined target audience already in mind, Vicarius was able to put Zopto to work within minutes and to start bringing in leads almost immediately.
Now, Vicarius uses Zopto to bring in new sales leads as and when they need them so that they can continue to grow their business at a consistent rate without overwhelming their employees or overstretching their resources. Slow and steady wins the race!