Industry: Marketing
I LOVE this software. My overall experience has been very good, and I really can't think of anything I don't like about Zopto. I like the time saving aspect, and I also love the analysis/reporting. It was a no-brainer for me to use this. The customer service chat is excellent – very responsive and fast. There have been no glitches at all. I'm looking forward to enhanced features as the software develops.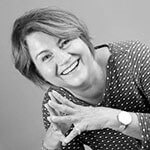 Customer story
Billed as the LinkedIn Marketing Alchemist, Tracey Burnett helps her clients to reach out to customers on the world's largest professional social network. She'll cover everything from developing marketing messages to identifying the best ways for her clients to grow their audience, creating irresistible offers, generating meetings with perfect prospects and knowing exactly what to say to those prospects to turn them into customers. She typically works with mentors, founders and entrepreneurs as well as other small and medium-sized enterprises (SMEs).
The challenges Tracey Burnett are facing
As an entrepreneur herself with no shortage of expertise when it comes to running marketing campaigns, Tracey Burnett was looking for a tool that could help to power scalable social advertising at her company. The company already had the expertise in-house to develop and deploy powerful marketing campaigns, but they needed a more efficient way of reaching out to leads on LinkedIn on behalf of both Tracey Burnett and its customers.
Why Zopto?
Zopto's cloud automation software was a perfect fit for Tracey Burnett because it allowed them to continue running their clients' campaigns as normal while simultaneously providing new and more effective ways of reaching out to potential customers at scale and in a manner that suits them. There wasn't even any need for White-labelling, because Tracey Burnett uses Zopto and other tools on behalf of its clients so that they don't need to get their hands dirty in the day-to-day details.
In particular, the company turned to Zopto to save time and to gain additional insights from the analysis and reports that the software has to offer. This in turn enabled them to run more targeted and strategic campaigns on behalf of their clients and to reflect those time and efficiency savings in their prices.
Tracey Burnett's growth and how Zopto plays a role
Tracey Burnett has growth at the core of its business, and it would have continued to grow both itself and its clients either way. Zopto simply made this growth easier, driving efficiencies and savings while also acting as an added value service for Zopto's customers. Key to this success was the fact that Zopto is easy to learn and fully scalable, so Tracey Burnett could tailor the campaigns they were running as needed.