Industry: Marketing
I've found myself in a few situations where clients were on the verge of leaving and where Zopto was the reason that I was able to keep them because of the additional features that the software provides. That alone makes it worthwhile, at least in my case. There's also the fact that I was then able to use Zopto with other clients to provide added value. I'm happy, my clients are happy, and Zopto should be happy about the help that they're able to provide to companies like mine.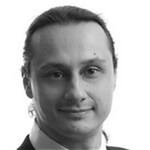 Bjarne Viken
Growth Hacker
Customer story
Scale Up Marketing is a specialist marketing company that's known for carrying out lead generation through LinkedIn. They work with people to ensure that their LinkedIn profile can be found and that their content is good enough for prospects to want to speak with them. They offer free strategy sessions that help people to identify where their profile can be improved and work to provide professionals with a strategy to consistently share valuable content.
The challenges Scale Up Marketing are facing
Scale Up Marketing needed new ways of reaching people on LinkedIn. They already had plenty of expertise when it came to personal branding and content creation, but they were struggling to effectively make use of LinkedIn advertisements. They also needed a more efficient way of carrying out outreach on the platform that didn't rely on the company or its clients spending huge amounts of time on manual outreach.
Why Zopto?
Zopto just made sense for Scale Up Marketing, because it offered all of the functionality that they needed. They could quickly and easily implement it into their processes with no lengthy learning curve. By using Zopto alongside the work they were already doing, they were able to better service their clients and to augment their LinkedIn toolkit so that they could cover everything from personal branding and thought leadership to advertising and outreach.
Scale Up Marketing's growth and how Zopto plays a role
Scale Up Marketing's use of Zopto was interesting because instead of using it for themselves, they were able to put it to work for their clients. They already had a good idea of their messaging and the types of people that they wanted to reach, but LinkedIn's native advertising tools weren't quite up to the standard that they required. By using Zopto, they were able to add another tool to their LinkedIn toolkit and to level up the campaigns that they run for and with their clients.