Industry: Product Design
Zopto was a great help in marketing and I'd definitely recommend it. It automatically generates leads and is a high quality tool that helps our marketing efforts. For me, Zopto is a tool that I can't go without, making my work easier and more convenient. I can't wait to see what upgrades they come out with in the future!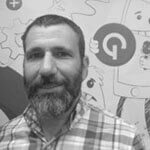 Gal Ben-Galim
Head Of Sales & Marketing
Customer story
Gini-Apps operates at the intersection between technology and strategy and prides itself in its ability to create innovative products that foster profitable, long-lasting bonds with millions of users from around the world. Tapping into technologies like iOS, Android, Adobe, Flutter and Sketch, they work with clients ranging from Microsoft and Playbuzz to educational organisations like Tel Aviv University and the Weizmann Institute of Science.
Founded in 2010, Gini-Apps focusses predominantly on the development of mobile applications, but they also offer other supplementary services including strategy development, product design and automation.
The challenges Gini-Apps are facing
Gini-Apps is a classic example of a company that knows where to focus its energy. They're developers and strategists at heart, and that means that there's always a risk that sales and marketing will become more of an afterthought. They needed a tool that they could pick up and use in-house without extensive amounts of training, and they also needed a reliable way to add new leads to their pipeline on an ongoing basis.
Why Zopto?
With offices in both the United States and Israel, Gini-Apps needed a tool that could be picked up by any employee in any location and which would help them to bring in potential new customers through social networking sites. At the same time, they didn't want to spend a huge amount of money hiring a dedicated social media advertising agency. Zopto allowed them to take their destiny into their own hands, identifying target audiences on LinkedIn and making it easier than ever before for them to reach out to them. Gini-Apps already has an impressive reputation as a skilled mobile app developer, and so actually selling themselves to potential customers isn't too difficult because their portfolio does the hard work for them. What they needed was a tool that enabled them to take their message and to amplify it as much as possible. That's where Zopto comes in.
Gini-Apps's growth and how Zopto plays a role
Gini-Apps needed a tool that they could switch on and off at will and which could deliver a steady stream of potential clients. By using Zopto to manage and deploy LinkedIn campaigns, Gini-Apps was able to reach the people they most needed to reach, creating themselves a cost-effective lead funnel in the process. Better still, they could target different customers in different regions at different times and with different messaging, depending upon their business needs. This gave them arguably the greatest benefit of all – flexibility.