Industry: Technology
We were happy with how easy it was to pick up the tool and to put it to use. It made it super simple for us to start reaching out to potential customers and to encourage them to sign up for demos of our software. At the same time, it also came much cheaper than it would have been if we'd worked with an agency, and the cost of our lead generation is actually a little lower than we expected. We've been turning those leads into customers, too!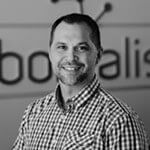 Customer story
Boréalis offers the most advanced stakeholder engagement software on the market, allowing their users to manage complex relationships at scale. They follow a three-step process – plan, engage and measure – and offer services ranging from public affairs and government relations to social and environmental performance.
With clients including Ikea, Hydro One, Rio Tinto and Ontario Power, Boréalis is already off to a strong start. They have international expertise of over fifteen years and currently serve more than 5,000 users in 40+ countries across five continents.
The challenges Boréalis are facing
Boréalis is very good at what they do, and with marketing as one of the strongest department, the real challenge was getting more people to sign up for demonstrations so that they could see the innovative software in practice. If they could reach the right people and show them just what the software does, it would sell itself. The challenge was to find a reliable, scalable source of leads to be able to give these demonstrations in the first place.
Why Zopto?
Zopto's automation software was a good fit for Boréalis because it made it much easier for them to carry out social advertising campaigns and to bring new people in. Because the tool is so scalable, it also allowed them to modify their campaigns so that they could respond to the company's evolving needs. When their calendars started to fill up with demonstration meetings, they could easily pause their campaigns or reduce the budges accordingly.
On top of that, Zopto didn't require huge amounts of training or upfront investment, meaning that Boréalis could get started straight away. It gave the company the freedom to hold their own destiny in their hands, allowing them to tap into a virtually infinite audience while promoting their game-changing software.
Boréalis's growth and how Zopto plays a role
One of the main ways that Boréalis grows is by offering potential customers a personalised demo of the software. The software sells itself, and so the real challenge was to get people to sign up in the first place. Zopto gave Boréalis an easy way to reach out to people at scale, introducing them to the software and inviting them to sign up for that all-important demo. With Zopto fuelling the fire, Boréalis can focus on servicing clients and growing their business.