Industry: Aviation
One of the best things about Zopto is being able to set it and forget it. It easily saves me multiple hours each week, and the only downside is that it takes a little time to juggle with the settings. Still, as long as you're willing to put in the time up front to create your advertising campaigns, it can be a huge time saver that breathes a little life back into your business by freeing up your employees to focus on other, more important areas of the business.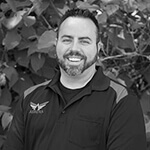 Customer story
AerdiA is an innovative technology company that uses drones to provide aerial footage for architectural, engineering, construction and inspection projects. The goal is to reduce the inherent risk that these projects bring with them by removing the need for human inspectors to place themselves in dangerous positions.
The aerial data that the company supplies includes 3D modelling, point clouds, CAD overlays, photography and videography, and the results can be delivered within 72 hours. The goal is for the company to usher in the future of data collection. They say, "Soon, employees will no longer be asked to conduct dangerous tasks. That's what drones are for."
The challenges AerdiA are facing
As is the case with many Zopto users, AerdiA's biggest challenge was to find a way to streamline their lead generation process by finding a more powerful tool to reach out to their target audience. Because the company offers such a specialist product, it became even more important for the company to follow best practices by reaching the right person in the right place with the right message at the right time. The challenge, then, was to find the most efficient tool to allow them to do just that.
Why Zopto?
Zopto's Automation Tool was the ideal tool for AerdiA because it offered all of the functionality that they needed at an affordable price point. In particular, it allowed the company to more tightly define their LinkedIn outreach campaigns while simultaneously allowing them to automate many key tasks to reduce the amount of human input and the number of resources required.
Zopto was particularly powerful for AerdiA because it allowed them to reach the specific target audience who'd be most interested in their services. Instead of having to adopt a scattergun approach and to hope that they were reaching the right people, they could streamline their approach and deliver their messages to only the most relevant people.
AerdiA's growth and how Zopto plays a role
Zopto has transformed AerdiA's approach to marketing and allowed them to spend much less time on the arduous task of lead generation and client education. Instead, after the initial time investment required to set up the campaign, they were able to reduce the amount of time they spent on lead generation and to focus instead on converting leads.
With Zopto in place, AerdiA found themselves with a scalable lead generation source that allowed them to more accurately target the people who could most benefit from their innovative technologies. Now they can focus on better serving their clients, safe in the knowledge that their LinkedIn marketing campaigns will keep on ticking away in the background.