by Nick | August 17, 2021
LinkedIn private mode keeps your profile information hidden as you browse other people's profiles on LinkedIn. But what's the point?
In fact, if other users can't see your information, doesn't that drastically reduce networking opportunities?
If you've avoided private mode on your premium LinkedIn profile in fear of missing important networking opportunities, you're missing out on some key benefits of this simple profile feature that you may use for LinkedIn lead generation.
In this post, we'll answer the questions, what is a LinkedIn private mode, why it's so important, and show you the top three ways you can use it to your advantage for your B2B lead generation and business.
Don't forget to take advantage of another little-known hack on LinkedIn for B2B businesses: endorsements. Check out our guide on how to use these to boost your lead generation efforts.
What Is LinkedIn Private Mode?
When your LinkedIn account is set to private mode, your name and profile information aren't shared with other users. 
With a premium account, you can browse in private mode so people can't see you've been looking at their profile, but you will still be able to see who has been looking at yours (as long as they're not also in private mode).
Recruiters, marketers, and B2B business owners often set their profiles to private mode to browse profiles to find sales candidates, or business partners and generate B2B sales leads.
Before we get into the why and when of changing your profile to private, here's how you do it in your privacy settings:
At the top of the homepage, click the "Me" icon in the left corner

Select "Settings & Privacy" in the drop-down menu

Click "Visibility" on the left

Click "Change" next to "Profile Viewing Options"

Change to "Private Mode" in the set of options
Once you've changed this, no one will be able to see your profile information when you visit their profile. Instead, you'll come up as "LinkedIn Member – This person is viewing profiles in private mode".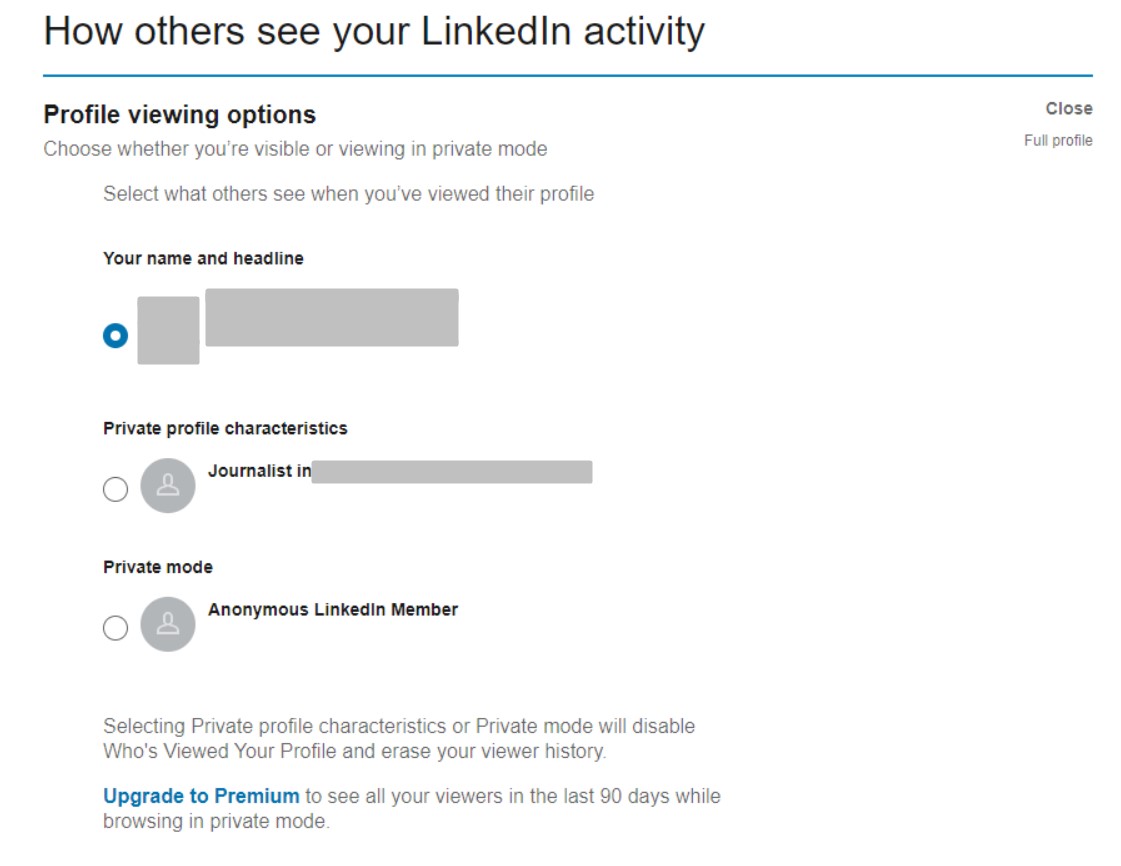 Other than that, nothing changes regarding LinkedIn's usability. You can still search LinkedIn in private mode and people can still visit your profile as usual.
How Activating LinkedIn Private Mode Impacts Your Profile
When you have a basic or free LinkedIn account, having it set to private mode also means you won't be able to see who views your profile. 
However, for premium users with a premium account (which anyone using LinkedIn for B2B lead generation or email lead generation should have), you'll still get notifications showing you who is a profile visitor and your profile views as normal.
With anonymous browsing, no one can see your private profile characteristics including your name, profile picture, job title, company, or other LinkedIn information – it's all totally anonymous. 
You can also choose to browse in semi-private so just your job title and company appear in their list.
Making the Most of Private Mode on LinkedIn
Since people can't see when you've visited your profile, you might think it's ruining your networking efforts. But using LinkedIn private browsing is ideal for a few specific tasks:
Generate leads
It's no secret that LinkedIn is the best resource for outreach, B2B lead generation and B2B email marketing through account targeting – the platform is filled with high-level marketing executives, CEOs, and decision-makers.
But when you're on the stage of building a cold audience, you don't want people seeing you snooping on their profile. 
First of all, it ruins the surprise of you reaching out and gives them a heads up that they might get a cold message from you. This isn't necessarily a bad thing but you don't want them forming negative connotation with you before they've had a chance to connect. 
Second, you're not going to reach out to every single profile you research. The last thing you want is connection requests from a bunch of different LinkedIn users who aren't your ideal audience.
So what's the alternative? Setting your profile to anonymous mode. 
No one will see you when you're doing profile research and you can turn your account back to the public version during your outreach or email marketing campaigns.
Then, using Zopto as your campaign tool, you can craft personalized outreach campaigns that target only the perfect potential leads you found during your incognito profile research. 
This will give you the best results and make the entire process simpler by setting outreach as the whole stage to autopilot. 
Spy on your competitors
Conducting a competitor analysis is one of the most obvious uses for LinkedIn private mode. 
You never want your competitors to know you're checking out their progress, being in incognito mode is necessary to keep your efforts unknown. 
Bonus tip: When looking at your competitors to figure out what they're doing well and how you can improve, you can also use the "people also viewed" section to identify new opportunities. 
Recruit easily
LinkedIn is the primary platform for recruiters looking to headhunt since it's a giant database of CVs. In fact, 87% of recruiters regularly use the platform to find candidates.
But the same concept applies – when you're recruiting, you might not want everyone you look at to know a recruiter looking at their profile. 
Using LinkedIn private browsing allows you to create a shortlist of suitable candidates without alerting people to what's going on. 
Once you have a shortlist of potential candidates, you can then turn your profile back to a public profile and reach out with a strong, personalized message.
Can LinkedIn Private Mode Ruin Your Networking?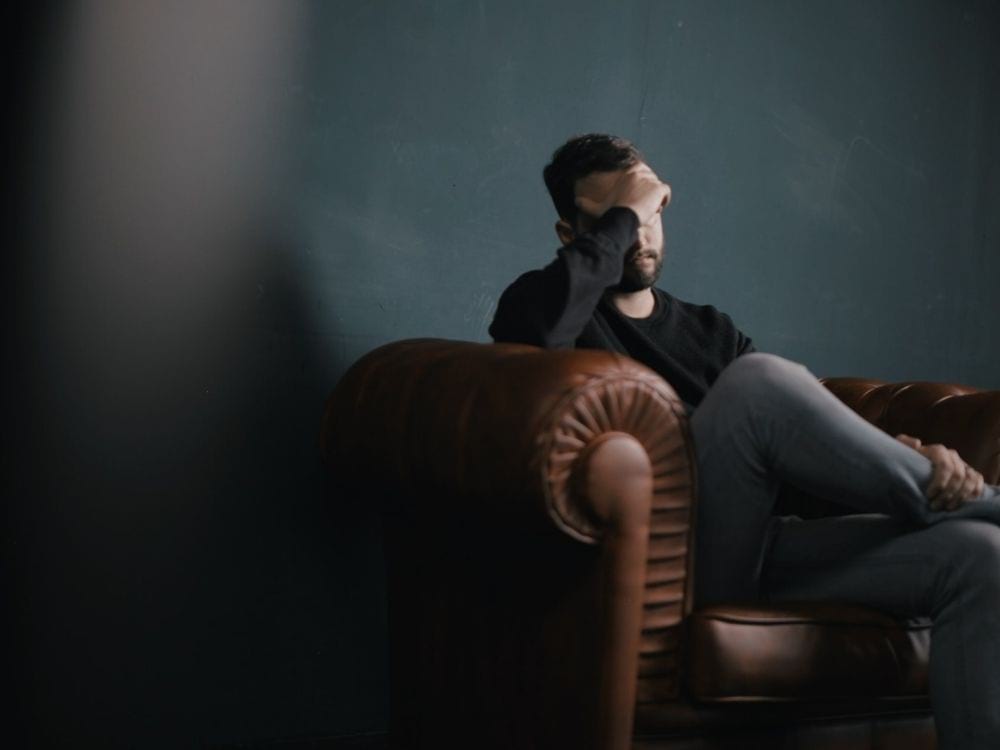 Although using LinkedIn private mode has benefits, it will mess up your networking opportunities if you use it for too long. 
Since people get a notification showing who has viewed their profile, they have a chance to find out more about you and connect. This allows you to grow your network and get your name or brand out there.
However, if you constantly have your profile in private mode, no one will ever know you've been on their profile, which significantly limits networking opportunities. 
The solution is only to use private when you're generating leads on LinkedIn, researching the competition, or looking to recruit.
Make an effort to keep your profile public at all other times for networking purposes. 
When your profile is public and you go ahead with your outreach campaigns, ensure your entire profile is optimized and shows you in the best light. 
You don't want people being able to see your information and being underwhelmed with what they find.
Make the Most of the LinkedIn Private Mode Feature
When it comes to LinkedIn lead generation and outreach, the private setting is an easy tool to boost your efforts.
The key to successful outreach is having a curated list of ideal clients that perfectly fit your product or service. 
Researching users in private mode gives you a better opportunity to find the right leads without unnecessary potential connections with the wrong users. With LinkedIn's strict invite restriction limit, it's important to focus on the best. 
Once you've done your research, that's where Zopto comes in. 
You can take that list of people and create personalized, researched outreach campaigns that are more likely to get positive replies. 
Once set up, your outreach will run on autopilot and you'll get a steady stream of warm leads every month. 
Are you ready to make the most out of LinkedIn Private Mode and boost your lead gen efforts? Schedule a demo with one of our representatives today.
Browse By Topic

Attract hundreds of hot leads by targeting your ideal customers on LinkedIn!
Get Demo